Cooking and grilling outside is a summertime staple. Now that football season is here, you might fire up the grill for some burgers and brats for the game, or perhaps the cooler weather makes using your outdoor kitchen more enjoyable.
It's starting to get darker sooner with fall on the horizon, which can make cooking outdoors a little more difficult without the proper lighting. This week we're sharing our favorite grill lighting and outdoor kitchen lighting ideas. Keep scrolling to see our picks...
This dreamy outdoor kitchen has LED tape light installed under the counters. At McKay Landscape Lighting, we prefer the light source well-hidden during the day and even harder to find at night. The light just seems to appear from under the counters, providing a uniform spread across a relatively large area.
Not only are all the food prep and cooking areas adequately lit to make grilling easier, but it highlights the kitchen's beautiful stonework. It's easy to see why this is one of our most popular photos on Pinterest. The tape-like nature of this fixture makes it very versatile to light different areas. Besides outdoor kitchens, we've used it on decks, patios, and stairs.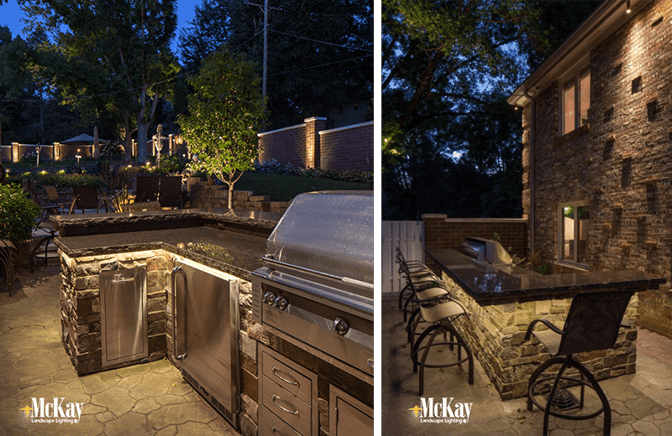 Here's another look at an under the countertop application for outdoor kitchen lighting. In addition to the tape light, downlights from above shine onto the grill and counter area. It's bright enough to light the entire area, but not so bright to overpower it. We love how the light creates a stunning shadow effect from the stone and brick.

This gorgeous outdoor kitchen has a light shining directly onto the grill and countertop area. On the opposite side, instead of LED tape light, we used seat wall lights under the countertop to achieve a more rustic look.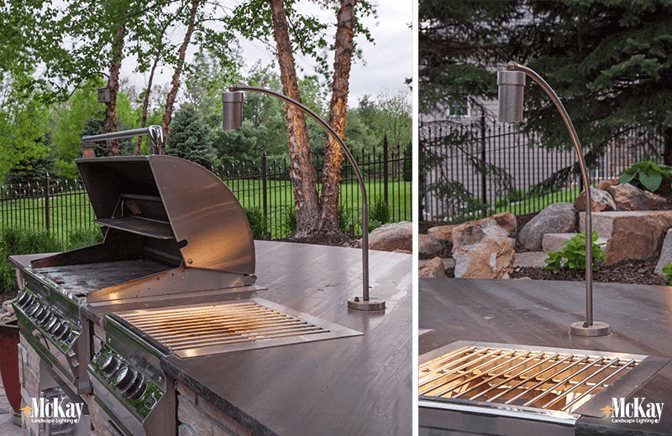 Our last outdoor kitchen features a fixture specifically designed for lighting the grill. It extends directly over the grill to shine the light on the food being prepared, making it easier to cook your food properly and safely!
Whether you have an expansive outdoor kitchen or a modest grill area, the right lighting can dramatically change your food preparation, cooking, and dining experience. All of the outdoor kitchen's featured in today's post are constructed from stone and required some pre-planning. When hardscapes are involved, it's best to get an outdoor lighting designer involved early in the planning of your dream outdoor space. Our designers know when it's best to coordinate certain aspects of the installation for a clean finished result.
Looking to Enhance Your Property?
Our dedicated team at McKay Landscape Lighting works with you to create a custom landscape lighting design that's unique to your property. From design to installation to service, you can count on our team of experts to make sure you are happy with your lighting system for years to come.